HIGH QUALITY FIRE DEPARTMENT CONNECTION PIPE CONNECTION
Short Description:
Model Number: HV030
Standard: BSP/NPT
Structure: Stop
Material: Cast Iron
Media: Water
Type: Coupling/hose connection
Port Size: DN100-DN65
Temperature: Low temperature
Power: Manual

Model: HV030
4″x2-1/2″x2-1/2″
Inlet:4″NPT Female
Outlet:2X2-1/2″F NH
Material: can be made by order,brass or aluminum alloy or cast iron brass color finished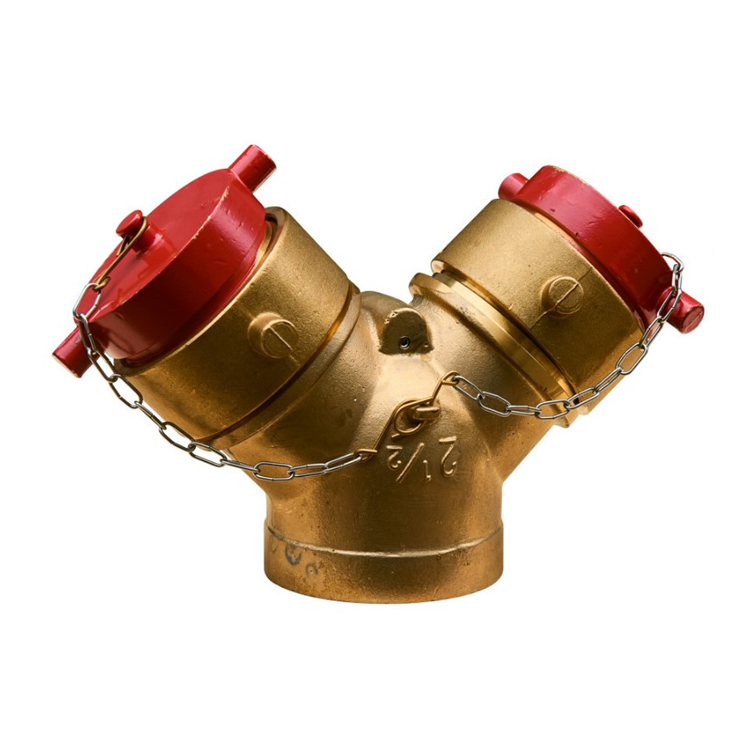 Two way breaching inlet
1. Outlet: 2×2.5"NH
2. Inlet: F2.5″ BSP/NPT
3. Fire hydrant valve/Fire hose connection
4. Body Material: Cast iron
5. Working Pressure:16bar , Test Pressure:30bar
Indoor fire hydrant is the connecter in the water piping network, including one valve with single outlet, One Valve with double outlet and double valve with double outlet etc. It's used to offer assistance to control the fire.
A hose is attached to the fire hydrant, then the valve is opened to provide a powerful flow of water, on the order of 350 kPa (50 lbf/in²) (this pressure varies according to region and depends on various factors including the size and location of the attached water main). This hose can be further attached to a fire engine, which can then use a powerful pump to boost the water pressure and possibly split it into multiple streams. The hose may be connected with a threaded connection, instantaneous "quick" connector or a Storz connector. Care should be taken not to open or close a fire hydrant too quickly, as this can create a water hammer which can damage nearby pipes and equipment. The water inside a charged hoseline causes it to be very heavy and high water pressure causes it to be stiff and unable to make a tight turn while pressurized.